My UFC 231 Recap - From The Sold Out Scotiabank Arena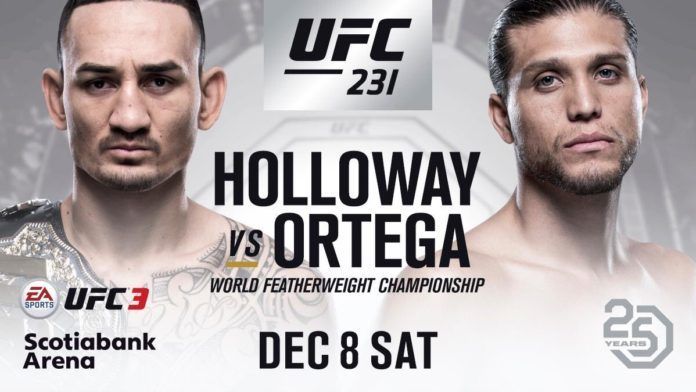 Saturday night I was in Toronto for my second ever UFC event.
I used to watch UFC back around 2009 when the sport was exploding. I slowly lost interest until December 2016 when I attended UFC 206 in Toronto. I again followed UFC fairly closely until 2018 when again I found myself losing interest, other than a huge fight card with Conor.
Saturday night was interesting. Was it overall as good of a fight card as UFC 206? I don't think so.
The prelims were awful for a casual fan like myself. Every fight went the distance. The most interesting part was the first round of the first fight of the Prelim card Theodorou vs. Anders. A fight in which Anders totally won, but Theodorou was given the hometown advantage by the judges.
After a two hour bore fest it was time for the PPV to start.
Thiago Santos threw some wicked bombs in the first fight earning him a KO win.
Then Canadian Hakeem Dawodu fought and won in a dud of a fight.
Then in fight 3 Gunner Nelson split Alex Oliverira's head open with a wicked elbow and choked him out. An interesting fight, but leading into the co-main event something really special needed to happen. It did not.
Shevchenko vs. Jedrzejczyk was a good technical fight which was led off with a weird walk out song of "Shallow" from A Star is Born by Jedrzejczyk.
And then what saved the card was Max Holloway vs. Brian Ortega in the main event. Ortega took a beating! Holloway ate a lot of shots as well, but he was much quicker and more powerful than Ortega, as Holloway basically taunted Ortega the entire fight, even telling Joe Rogan heading into the fourth round he was going to end it. It's a shame the doctor stopped the fight but after everyone saw Ortegas eye it was pretty clear the fight wouldn't be continuing.
Someone has uploaded the whole fight on Youtube:
Overall The UFC is a great night out with a group of friends. The crowd is very strange, and probably has the widest of fan ranges.